FLYER
DISTRIBUTION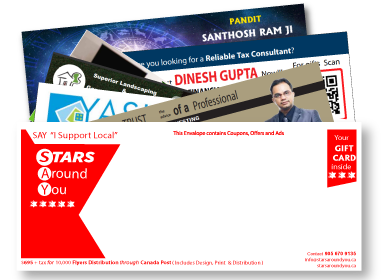 Include: Design, Print & Distribution
More Information
1. DESIGNING
Once we get client and business info our designer team starts designing the flyer and sent to the client for approval. Any edits changes required are done taking feedback.
2. PRODUCTION
The approved design is then sent to production team. Once the production is done the flyers are then inserted into envelope of "Star Around You"
3. DISTRIBUTION
Once the enveloping is complete, we book with Canada post for distribution as per the area. Once we get confirmation our team drops the boxes at Canada post. There after once the Canada post does the distribution, we get a notification of distribution done.
PLEASE NOTE:
1)"Stars Around You" is just helping business to get noticed, helps in branding and not assurance/ guarantee of getting leads or calls.
2) Once the design is approved it will take 2-4 weeks minimum for next steps.
3) Invoice is raised once client agrees to move ahead with "Stars Around You". 25% has to be paid as advance and 75% before moving into production & distribution.
2) The flyers go in with other business flyers into the envelope not as individual.
3) Once the slot is booked with Canada post the lined Map/distribution postal code Map is shared with clients.
4) Once we get notification from Canada post after distribution is done, we sent clients with detailed distribution list.
To Participate send your ad content to
This email address is being protected from spambots. You need JavaScript enabled to view it.
or fill the form below
Call: (905) 670-9135 for questions if any...